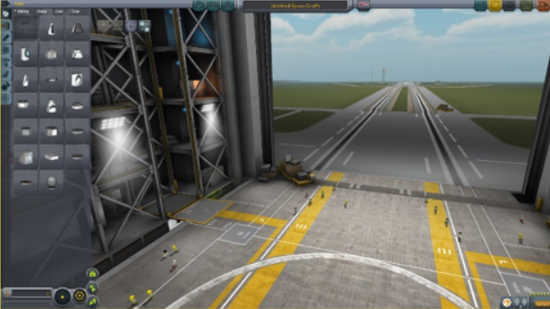 Construction
The VAB (Vehicle Assembly Building) is where you'll build most of your ships. If it launches straight up, the VAB is the place to build it. For now, we'll skip the details and just get a working rocket. Note that this rocket won't get very far because it won't have enough fuel to even reach orbit.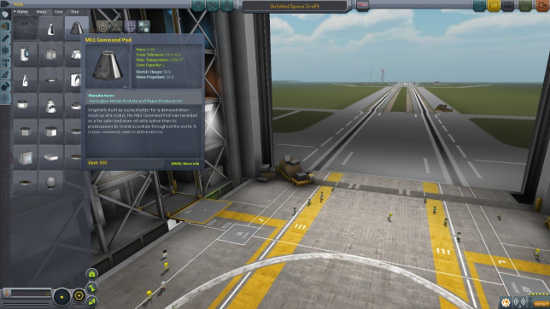 The first thing you'll want to do is grab a command pod. Look under the flat-topped cone shape tab. If you click on this part (not click and hold), it will usually put it in your "hand," but because this is the first part you selected (your "root" part, which is considered the only part of your ship that has to survive in order for your ship to still exist), it will be automatically placed in the VAB. You can then click on it to move the part up or down as needed. If you ever have to move your entire rocket up (which will be common when you're building big rockets) click this piece to get the whole rocket assembly.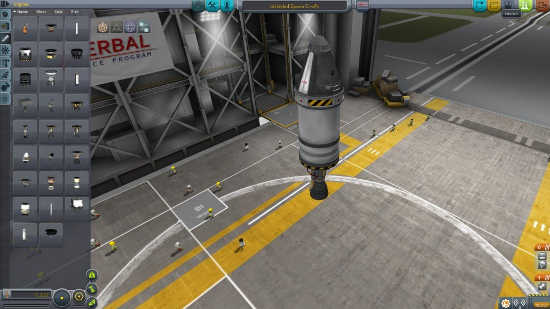 Now you'll add the other parts. I recommend going under the gear tab (utilities) and grabbing a decoupler. The TR-18A should do fine. Place that right below your command pod. Then, also under utilities, grab a small parachute and stick it on top of your command pod. This will let you land without a fiery death. Next, add in a fuel tank from the second to the top tab.

Then stick an engine onto the bottom from the tab just below it. I used the FL-400 tank, and the LV-T45 engine. I didn't add any (but should have), but you can stick some fins on the bottom as well if you'd like. These will make your rocket flip less (more on that later). Your rocket should look more or less like mine now.