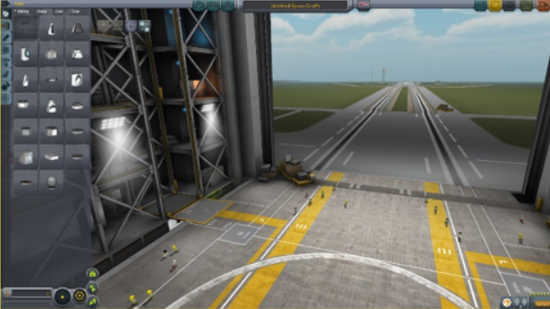 Construction
Now that you've made a rocket and you know how to fly it reasonably well, let's go to the Vehicle Assembly Building again and build a more advanced rocket. There are some neat tools available in here that let you have a lot more control over how you place parts, and that allow you to see different stats about your craft.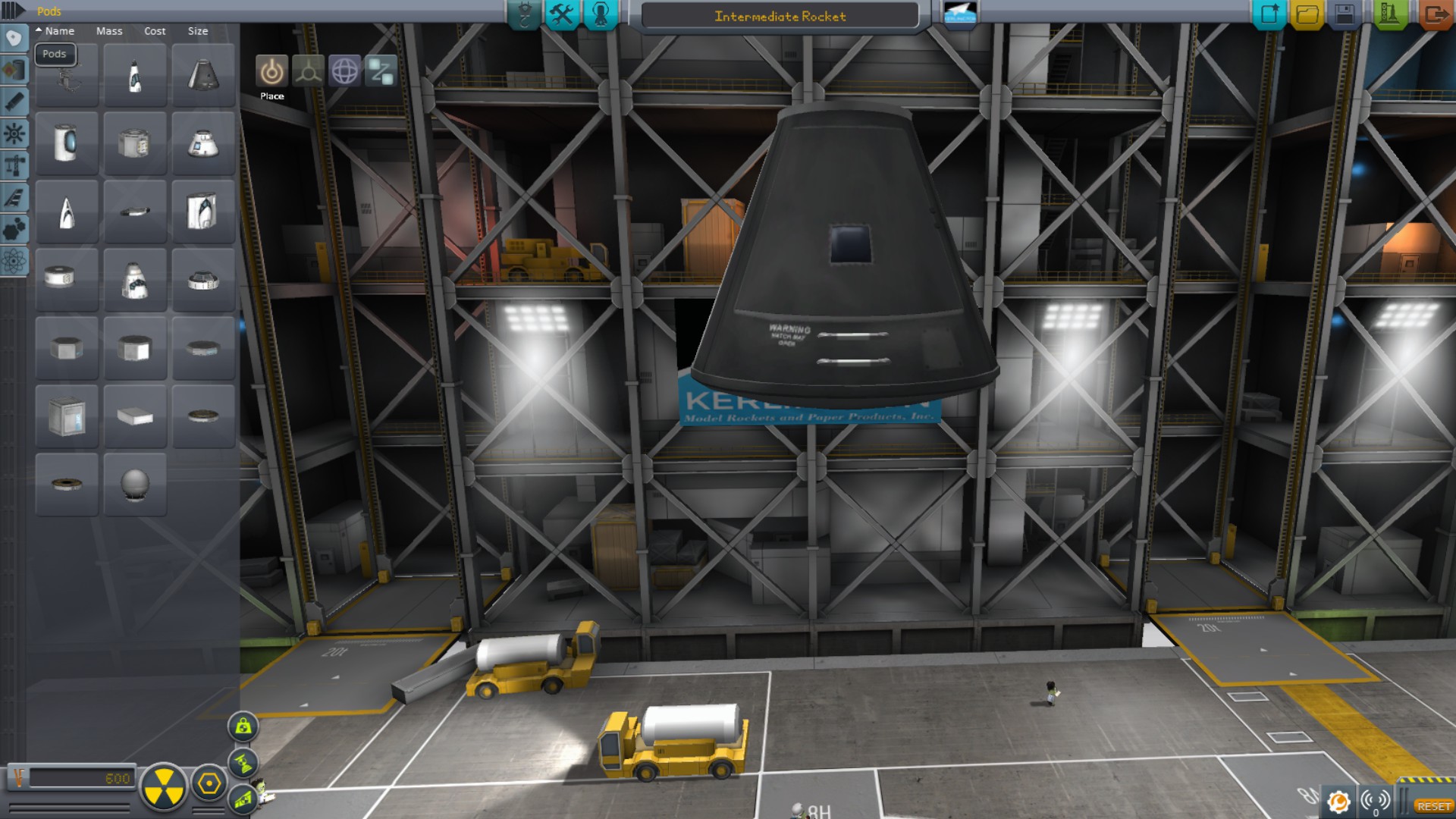 First, let's talk about the parts organization. You'll notice that there are 8 tabs on the left edge of the screen. These contain different types of parts. The first one is the Pods tab, and contains (you guessed it) command pods (things that let you fly the rocket). Usually these are the first thing you place. That way your craft will exist for as long as your command pod exists. In other words, you'll be able to control it and (hopefully) safely land it even if all you have left is a parachute and the pod with your Kerbals on board.
Next, the smartest thing to place is a parachute, found under the "utility" tab. If I have a manned vessel, I usually like to add a probe core as well so that I can control it if there are no Kerbals on board. Make sure you have enough parachutes to slow your craft down to less than 7 m/s. The command pods can typically survive up to about that speed. Less is usually better, but can get a little annoying after a point. Note that the amount of parachutes you'll need depends on what planet you plan on landing your vessel on. Also, not all planets and only one moon have atmospheres. That moon is a late-game destination called Laythe.
Consider adding some batteries to the sides of the command pod, and possibly some solar panels. These are in the "utility" section. Be careful not to block the door. You might want to test that the door can be opened before moving on. Put the rocket on the launch pad as it is, and see if you can get your Kerbal in and out. If you can, then success! You can move on. Pause the game (ESC), and then click "Return to Vehicle Assembly Building."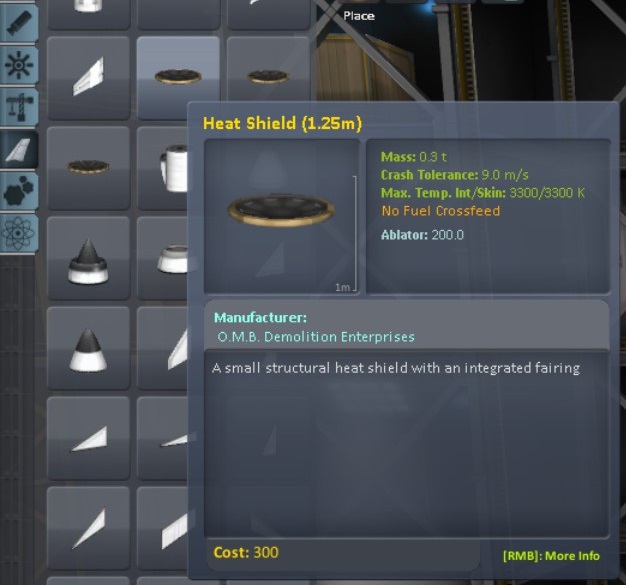 A heat shield goes next, but if you're dropping in from Kerbin orbit, they aren't necessary and usually just add extra weight. The heat shields are in the "aerodynamics" tab that looks like a wing. It's the third from the bottom. Heat shields may be helpful for returning from Minmus orbit, but anything less than that should be survivable without one.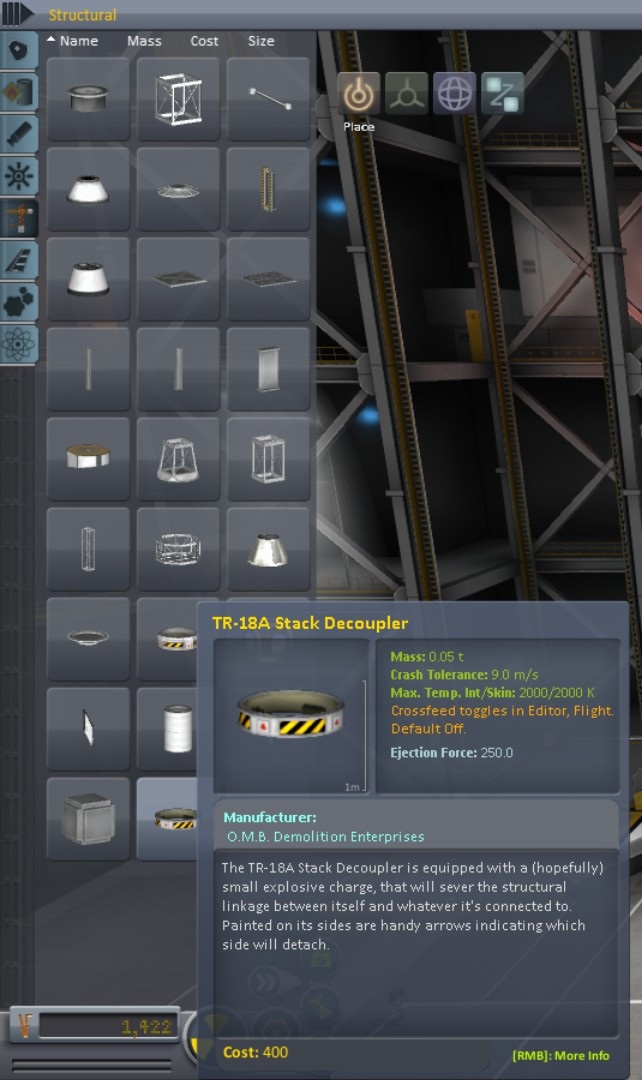 Whether you have a heat shield or not, a decoupler is a smart choice to go between your pod and whatever comes after it. Decouplers are in the "structural" section.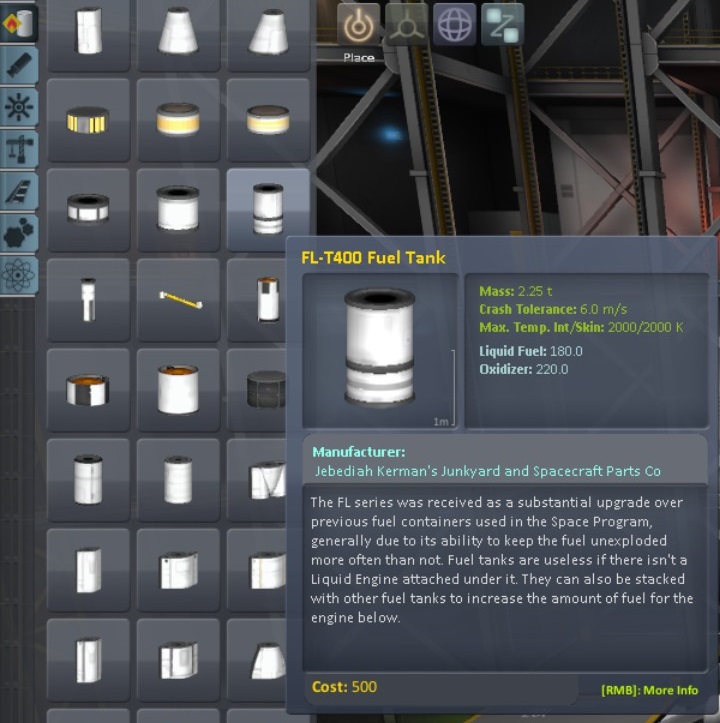 Next you'll want some fuel tanks and an engine. For now, just add 1 FL-T400 tank. Stick an LV-909 engine under that. From the top, fuel tanks are the second tab. Engines are the third. You'll probably want more fuel, but this is a starting point for now. Suffice to say, if you have enough fuel and your engine can lift that fuel, you could get to orbit. This stage won't have anywhere near enough fuel for orbit right now.
After the first set of fuel tanks/ engine, you need another decoupler. Otherwise, that stage you just placed is useless. Now you're ready to place another stage. This one should be a little larger, since you're trying to lift yourself off of Kerbin's surface with it. Try placing 2 of the LT-800 tanks followed by an LV-T30 tank for now. We'll get more in depth with this later.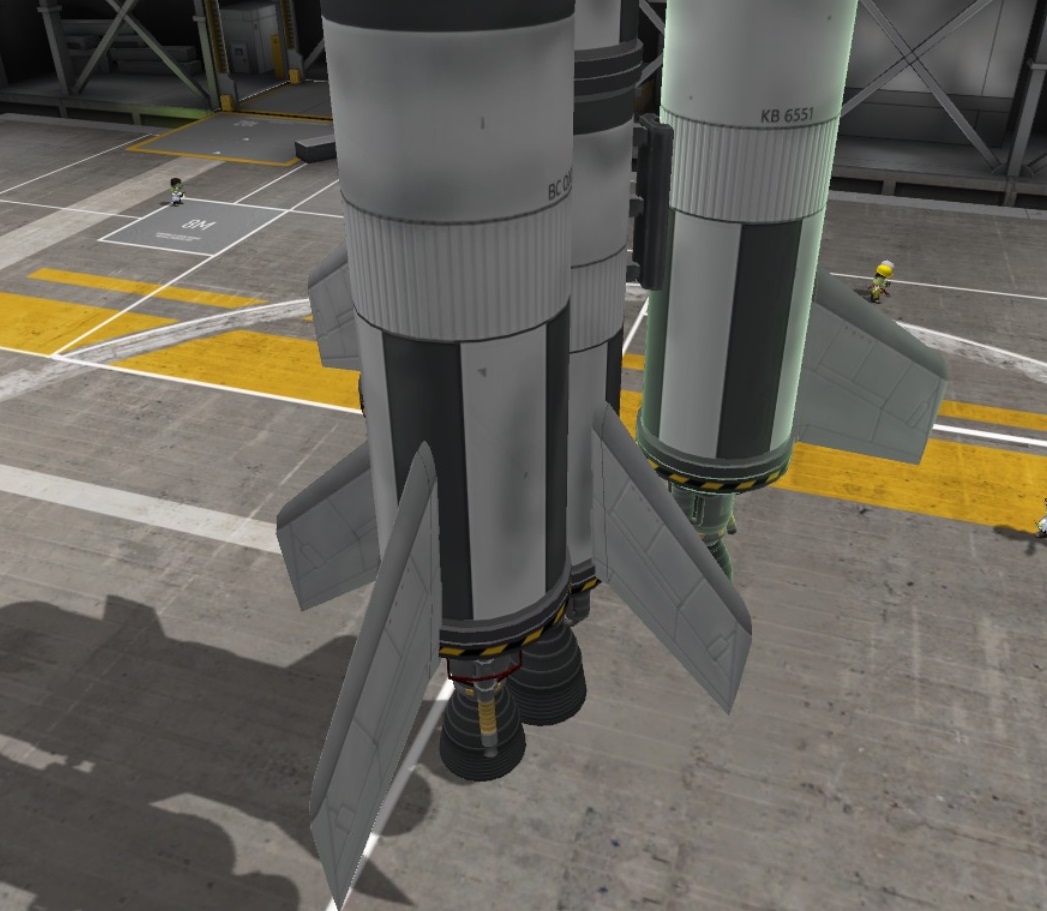 One final booster stage might be helpful at times. After that final booster, add some fins. In fact, consider adding fins to the lowest 2 stages if you added an optional booster. Anything that you expect to be used in the atmosphere should have fins. Make then progressively larger the farther down the rocket you go.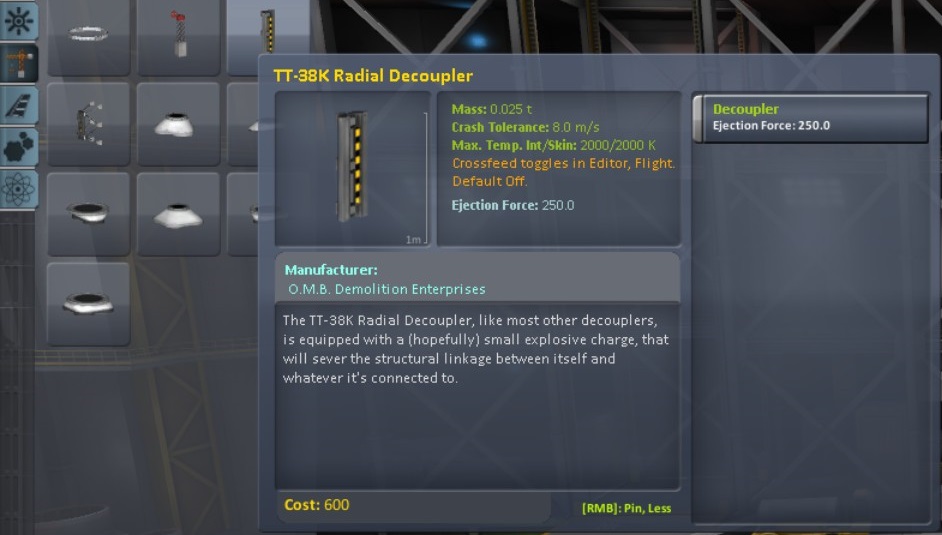 If you need to, you can use anything from prior lessons to modify your rocket. I recommend looking at VAB Basics.
Here's a simple checklist of what to put on your rocket when:
Part
Place...
Found under...
1. Command Pod
As the first part of your rocket
The "pods" tab (top tab)
2. Parachute
On your command pod. (Careful not to block the doors.)
The "utility" tab (looks like gears)
3. Batteries, solar panels
On your command pod
The "utility" tab
4. Heat Shield (sometimes optional)
Under your command pod
The "aerodynamics" tab
5. Decoupler
Under your command pod
The "structural" tab
6. Booster (fuel tank(s) and engine)
Under the decoupler
Tanks are under "fuel tanks" and engines are under "engines"
7. Decoupler
Under your booster
The "structural" tab
8. Next booster
Under the decoupler
Tanks are under "fuel tanks" and engines are under "engines"
9. smaller fins
As low on your booster as possible
The "aerodynamics" tab
10. Decoupler
Under the booster from step 8
The "structural" tab
11. Booster
Under the decoupler
Tanks are under "fuel tanks" and engines are under "engines"
12. Larger fins
As low on the booster from step 11 as possible.
The "aerodynamics" tab
13. Continue pattern as needed